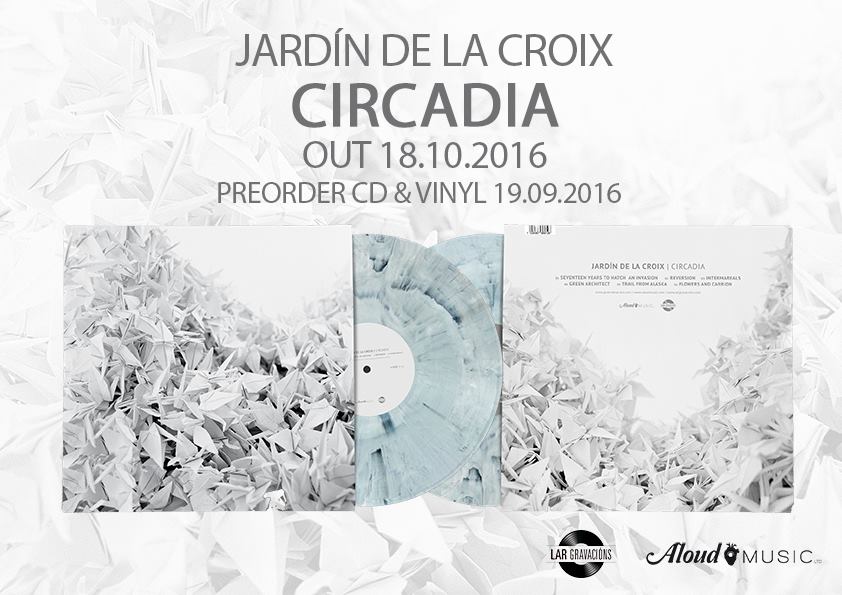 New Jardín de la Croix album in October
It's not just their amazing live shows, their impossible tappings and their crazy patterns. JARDIN DE LA CROIX  has written some of the most brilliant pages of the new European math-rock over the last few years. If with their last album, "187 steps to cross the universe" (2013, Lar Gravacions) they confirmed their evolution, this 4-piece band from Madrid will release in October  "Circadia" (Aloud Music / Lar), a statement of rock with hints of schizophrenia that reaffirms their love for the difficult and that will get, without any doubt, the recognition of the general public and the specialized press. Which is what this band deserves!  
The band, formed by Israel Arias (drums), Ander Carballo (guitar and synth), Pablo Rodríguez (guitar) y Nacho Hernández (bass), Jardín de la Croix is a solid band, with already 4 albums and always growing. Seeing them live is a MUST if progressive and instrumental rock is your thing. And if it isn't, you should discover a world that, no doubts, will drive you crazy for a bit. 
"Circadia" will be published next October 18th, released on by Aloud Music Ltd. and on vinyl between Aloud and Lar Gravacions, in 2 different numbered and limited editions that will be unique. 
One month earlier, on September 19th, both labels will activate the pre-order through their websites and at the beginning of October will be available to listen, buy and download through the band's bandcamp, getting ready for the live shows of their tour, who will include, among others, the presentation at Sala Bikini in Barcelona, on Saturday October 8th, with Exxasens  and an European tour that will bring them to France, Germany and Switzerland during the second half of October.  
This post is also available in: Español